Glass-Front Indoor Niches
Indoor Niches are located near the front entrance of the cemetery in our Cremation Niche Columbarium. In June, 2011 Woodside finished the complete renovation of it's previous office structure into a 1200 sq. ft. Indoor Niche Columbarium. This former cemetery office facility proved to be a beautiful, safe and secure structure to showcase indoor beveled glass front niches. This state-of-the-art project features private secure key card entrance with round the clock surveillance, and stained glass windows by nationally known and local business, BeauVerre Riordan Stained Glass Studios. This location has glass front and granite front niches with sizes that can accommodate singles, companion sizes and family size units.
Scattering Garden
Scattering Garden – Woodside offers many locations to inter cremains including this beautiful Scattering Garden. The Garden features a 7 ft. tall gray granite monolith with 4 sides allowing individual name bars with birth and death years installed on the plaque. The patio and walkway up to the memorial is surrounded by a ground cover and the spring season showcases spring bulbs including daffodils and narcissus; whose symbolism of re-birth and new beginnings is quite fitting for this garden setting. This location is directly across from the Soldiers & Sailors Monument in Section 3.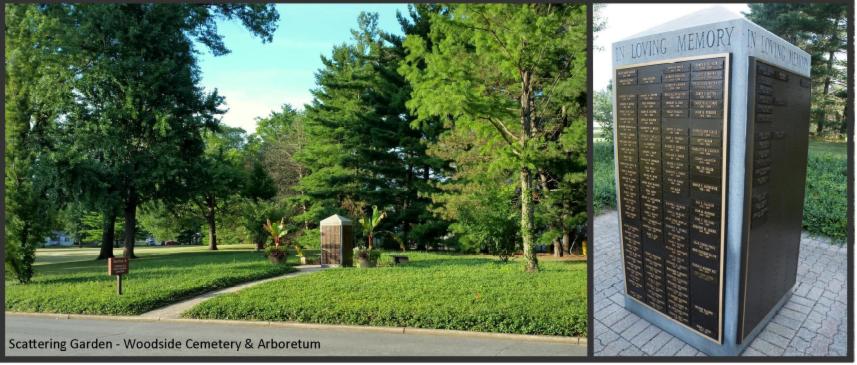 Mausolino – Community Vault
Mausolino – Community Vault – Woodside's Community Vault is our most economical option for placing cremated remains here at Woodside. This location is located in the Interior Wall of Building F at the Mausoleum Complex. A bronze nameplate is included in your purchase.